When it comes to preventing and treating the appearance of stretch marks, it is important to pay attention to how you apply your stretch mark products. 
This article will guide you on how you can improve your stretch marks prevention routine and make the most out of the SOG Dermatology Bundle. Containing all-natural ingredients, our dermatologist-approved bundle has everything an expecting or new mum will need for her skin to stay moisturised throughout her pregnancy journey and during postpartum.
Read on to learn more about our SOG Dermatology Stretch Mark Control Cream and Skin Firming Oil, and the right way to use them for optimal results!
SOG Stretch Mark Control Cream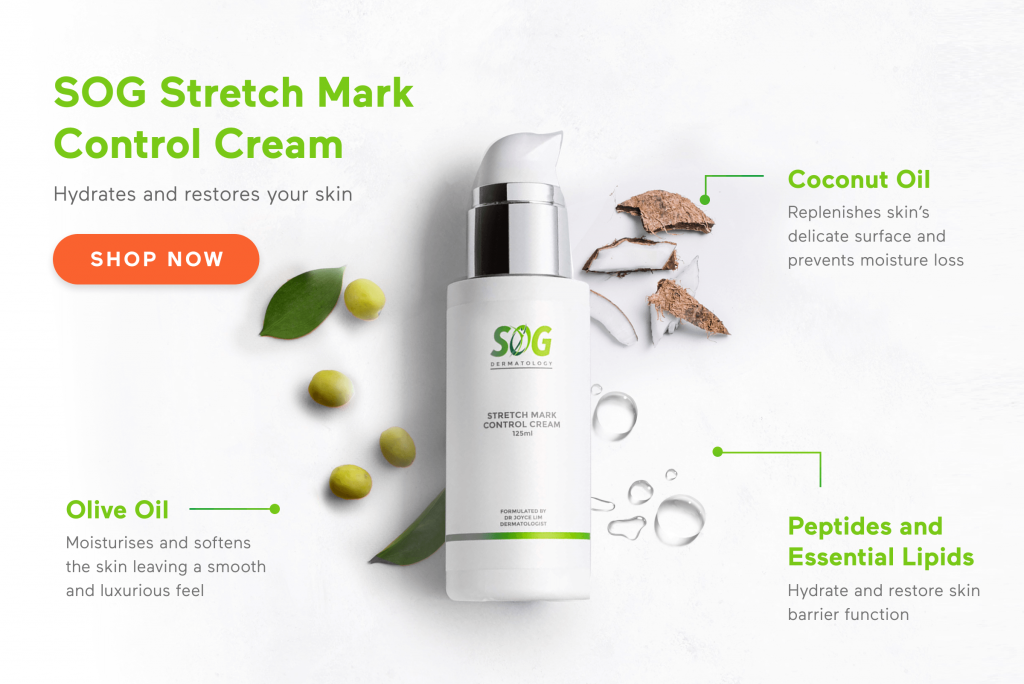 What should you look out for in a good stretch mark cream? For pregnant and breastfeeding mummies, be sure to check the ingredients list before using them. The product should contain ultra-hydrating emollients and soothing antioxidants, and should also contain ingredients that are safe for you and your baby. 
Specially formulated with all-natural ingredients like coconut oil and natural olive oil derivatives, this buttery rich Control Cream will keep your skin hydrated and moisturised all day. 
Our Stretch Mark Control Cream does not contain any harmful ingredients such as parabens, alcohol and phthalates, making it perfect for use during pregnancy when any exposure to potential allergens should be minimised.
SOG Skin Firming Oil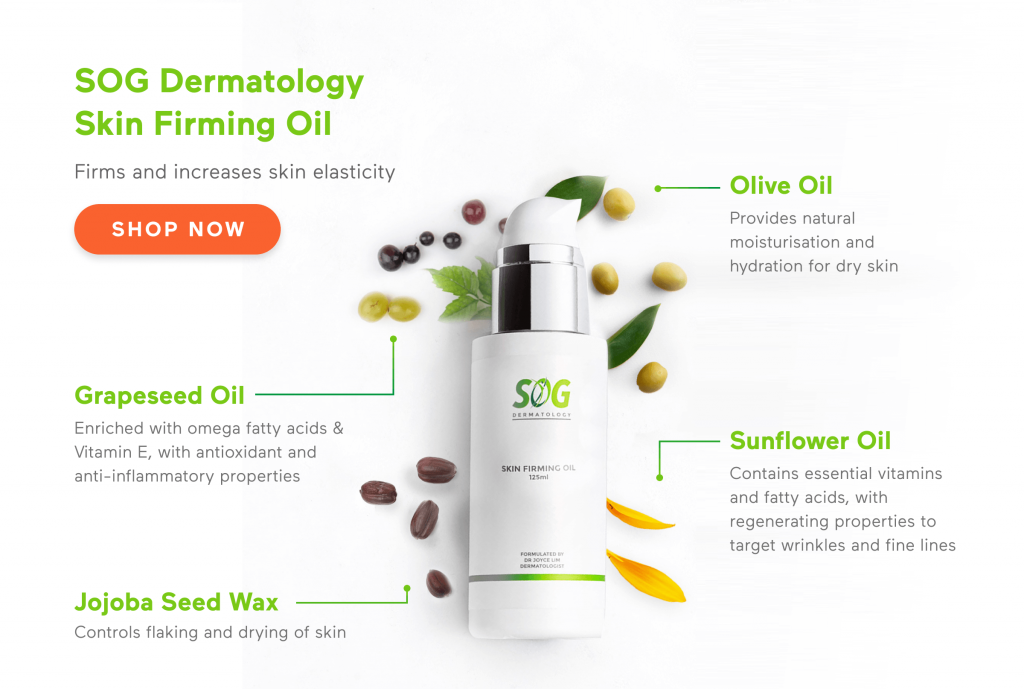 Some women are concerned about using oil-based products on their skin which may leave a sticky and greasy feeling.
If you always wanted to try skin firming oils but have been concerned about this drawback, SOG Dermatology Skin Firming Oil is an ideal choice for you. Our skin firming oil provides a non-sticky and smooth application for all pregnant and new mums. The olive oil and jojoba seed wax penetrate your skin deeply to help prevent and improve the appearance of stretch marks, while grapeseed and sunflower oil create a shield that keeps the moisture locked in. 
SOG Dermatology Skin Firming Oil is also hypoallergenic and fragrance-free, safe for use during pregnancy and postpartum.
Key Steps in Your Stretch Marks Prevention Routine
Regular Exfoliation
When dead and dry skin cells are not cleared away regularly, they build up over time, creating a barrier between your skin and every product that you apply on it. No matter how good your skincare products are, they will not deliver results if your skin is not cleared of dead or dry skin cells. 
Exfoliation removes dead skin cells from the outer layer of the skin facilitating circulation and cell renewal. When your pores are unclogged, your skincare products can penetrate deeply into the skin making them work more effectively. 
Exfoliating your skin twice a week will help SOG Dermatology Stretch Mark Control Cream and Skin Firming Oil penetrate deeper into the skin tissues where stretch marks are formed. This way, our extra-hydrating formulas enriched with a fine blend of oils and essential peptides will calm, nourish and protect your skin. Applying SOG Dermatology products on clean, exfoliated skin will instantly quench dry, itchy skin and keep stretch marks at bay! 
Applying Skincare Products on Damp Skin
This technique helps to moisturise your skin properly, retain moisture within the skin and restore its protective barrier. 
Damp skin acts like a sponge, quickly absorbing the product and allowing it to lock in that hydration. Use a generous amount of SOG Stretch Mark Control Cream and massage them onto stretch mark prone areas during the day to leave your skin soft and silky-smooth. 
Applying SOG Skin Firming Oil after a shower will not only create a natural barrier to lock in the moisture but will also help the oil to absorb quickly to increase the elasticity in your skin.  
Consistent Regimen
You probably will not be surprised to hear that consistency is key when it comes to preventing and treating stretch marks. Having a good, consistent stretch mark skincare routine provides your skin with a lot of benefits, gradually delivering the results you can see and feel.
If you are a mum-to-be, make sure to incorporate SOG Dermatology products from the first month of your pregnancy onwards. Use SOG Stretch Mark Control Cream in the morning to hydrate and moisturise your skin. In the evening, apply SOG Skin Firming Oil to nourish your skin while increasing skin elasticity to cope with the growing baby bump.
Maintain your everyday skincare regimen to hydrate and nourish stretch marks-prone areas, such as your baby bump, breasts and hips, with the SOG Stretch Mark Control Cream and Skin Firming Oil Bundle.
Massaging the Affected Areas
Instead of simply applying the cream and oil to your body, you should consider massaging the products onto your skin as well. 
When you apply and massage SOG Dermatology products onto your skin, it can help your skin to absorb the products better and boost blood circulation. 
For maximum results, we recommend applying a generous amount of SOG Stretch Mark Control Cream or SOG Skin Firming Oil onto your palm. Then, massage the product into your skin using subtle pressure and small circular motions. This will help the natural actives in the products to travel deeper in the skin to support its natural collagen production and improve skin's barrier function.
Conclusion
There are certain techniques you can use to make the most out of your stretch mark prevention routine with SOG Dermatology. Make sure to exfoliate your skin twice a week to help your skin fully absorb the skin-nourishing ingredients. Remember to apply both SOG Stretch Mark Control Cream and Skin Firming Oil on slightly damp skin to deliver lasting moisture and for the products to absorb better. Stay consistent with your stretch mark regimen and apply the products every day by taking time to gently massage the stretch-mark-prone areas.
Shop the SOG Dermatology Collection at: https://shop.sog.com.sg