Pregnancy stretch marks are the tiger stripe-like marks that can occur when your skin is stretched to make space for your growing baby. You can get them due to multiple factors, such as your skin stretching too fast during puberty or with ageing. However, stretch marks around your belly are mostly related to pregnancy.
Here are the top 6 frequently asked questions about pregnancy stretch marks.
Q1: What are the first signs of pregnancy stretch marks?
The first sign of stretch marks is generally thinning of the skin that may cause excessive itching and irritation. As skin is stretched, its connecting fibres get broken, becoming thinner in appearance and structure. These signs usually develop during the 30th week of pregnancy, increasing during the third trimester with some women even experiencing the increase in stretch marks during their second trimester.
Q2: Who is more likely to get pregnancy stretch marks?
While several factors contribute to the likelihood of you getting stretch marks during the pregnancy, not all of them are controllable. Stretch marks are more likely to appear if there is excessive weight gain during pregnancy. Generally, it is okay to gain around 20 pounds of weight during pregnancy. But if your weight gain is more than this, you may not only end up with stretch marks earlier, but may even have more stretch marks than others. This likelihood of stretch marks increases during pregnancy if you underwent a rapid weight gain, rather than a gradual one as that puts sudden pressure on the skin, aggressively stretching and tearing it. Similarly, age plays a factor in the number of stretch marks one has. As ageing generally reduces the collagen and elastin content in the skin, even the slightest stretch of the skin will tear the skin.
Q3: Is there a way to avoid stretch marks in pregnancy?
Stretch marks are generally related to pregnancy, but they do not necessarily have to develop during pregnancy. There are many ways to avoid stretch marks, such as maintaining a steady weight gain, as opposed to rapid weight gain In the event you experience a rapid weight gain, speak to your doctor to set a diet plan and better manage your weight gain.
A good body care routine can also vastly improve your chances to avoid stretch marks during pregnancy. Pair regular massages during your pregnancy with SOG Dermatology Collection – Stretch Mark Control Cream and Skin Firming Oil.
Q4: Why do I have so many stretch marks?
During pregnancy, the hormone levels in your body can also significantly change. The drastic change in estrogen levels is necessary for a healthy pregnancy, but it can also negatively affect the skin. The skin becomes more likely to develop stretch marks as it has lost its collagen and elastin fibres, reducing its elasticity. This makes it prone to tearing when stretched excessively, which is why you develop many stretch marks during pregnancy.
Q5: Are pregnancy stretch marks genetic?
Your skin's elasticity depends on the connective tissue, elastin. Reduced levels of it can predispose you to stretch marks during pregnancy, but this reduction is a genetic trait that may have been passed from your mom to you and now to your daughter. If your mom had stretch marks during her pregnancy, then it is likely that you will also have stretch marks when you are pregnant, and so on. While this implies that stretch marks are hereditary in origin, they can be managed with the right lifestyle choices.
Q6: Will moisturising help reduce stretch marks during pregnancy?
Using an effective moisturiser on stretch mark prone areas such as your belly, breasts, hips and thighs will help you hydrate the skin and restore its elastin content. This will help your skin combat the pressure of stretching and minimise tearing. You should begin to moisturise your belly from the day you find out that you are pregnant.
Stretch marks may be the mark of your challenging pregnancy journey, but it doesn't mean that you have to like them. It is okay to want to avoid them or get rid of them completely. And you can do so by investing in products designed specifically to prevent these stretch marks from developing during your pregnancy. You can also purchase certain products to help you lighten the scars after you have given birth. These products help firm your skin and reduce the appearance of your stretch marks.
SOG Dermatology Products for Stretch Marks
If you are looking for products to control your stretch mark development during pregnancy or reduce them while breastfeeding, kickstart your body care routine with SOG Dermatology products. Be mindful when choosing skincare products during pregnancy, to ensure the safety of e you and your little one, making sure that they are free of toxins and harmful chemicals that may harm you and your baby.
SOG Stretch Mark Control Cream and Skin Firming Oil are free of harmful chemicals and toxins. They are made with all-natural ingredients that have been dermatologically-tested and proven to be safe for you and your baby. The products that you can use for your stretch marks are:
SOG Stretch Mark Control Cream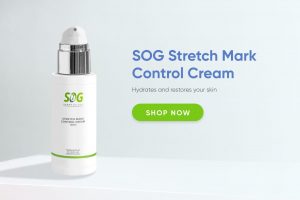 The Stretch Mark Control Cream by SOG contains a luxurious blend of olive oil, coconut oil, and essential peptides which hydrate and nourish your skin. It rejuvenates your skin and prevents excessive stretching as your baby grows. This product is also free of parabens and phthalates, which are allergens that should be avoided, especially during pregnancy.
SOG Skin Firming Oil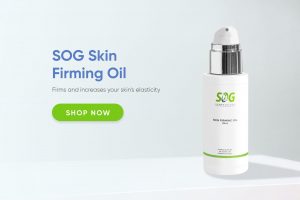 Skin Firming Oil by SOG is a combination of several natural oils that targets to penetrate the skin and repair every layer. It has a smooth application, leaving your belly with a non-sticky feeling. The natural oils used in this product are olive oil, jojoba seed wax, grape seed oil, and sunflower oil. Not only does this product reduce the appearance of stretch marks visibly, but it also helps prevents them from developing during your pregnancy.
Conclusion
Stretch marks are a natural part of the pregnancy journey with some women experiencing them in increased numbers due to genetic components. It is important to moisturise and keep your skin hydrated to prevent stretch marks during pregnancy.
Whether it is preventing new scars or improving the appearance of existing marks, our SOG Dermatology Stretch Mark Control Cream and Skin Firming Oil can certainly help with your stretch marks.
Shop our SOG Dermatology Collection at: https://shop.sog.com.sg.