Stretch marks are white, red or purple scars that may form during pregnancy. These marks are caused by tiny tears in the layers of skin tissue due to rapid weight gain and hormonal changes. They are very common among expectant and new mums, with approximately 50 to 90% of women experiencing some form of stretch marks during pregnancy.
Although stretch marks, like scars, are typically permanent, their appearance may be reduced and improved with various treatment options. The secret is to enhance and retain your skin's moisture and elasticity.
At SOG, we have specially formulated our SOG Stretch Mark Control Cream and SOG Skin Firming Oil bundle.
Here are 6 reasons you should try our SOG Dermatology Stretch Mark Bundle:
1. Formulated Without Potentially Harmful Chemicals
Our products are parabens, alcohol and phthalates free.
These ingredients are commonly found in many cosmetic and skincare products, and exposure to these chemicals can potentially be harmful during pregnancy.
Here are some basic information about these potentially harmful chemicals:
Phthalates

are typically used as lubricants or softeners in skincare products. They can be harmful to you and your foetus as they interfere with hormone levels to increase the risk of cancer and cardiovascular diseases, as well as lead to reproductive birth defects. 
2. Made With Natural Ingredients
Instead of potentially harmful chemicals, our products are made with natural ingredients.
The SOG Stretch Mark Control Cream contains ingredients such as coconut oil, olive oil, peptides and essential lipids. Coconut oil replenishes your skin's surface to prevent moisture loss, while olive oil moisturises and softens your skin to give a smooth texture. Peptides and essential lipids in the product also hydrate and restore your skin's protective layer.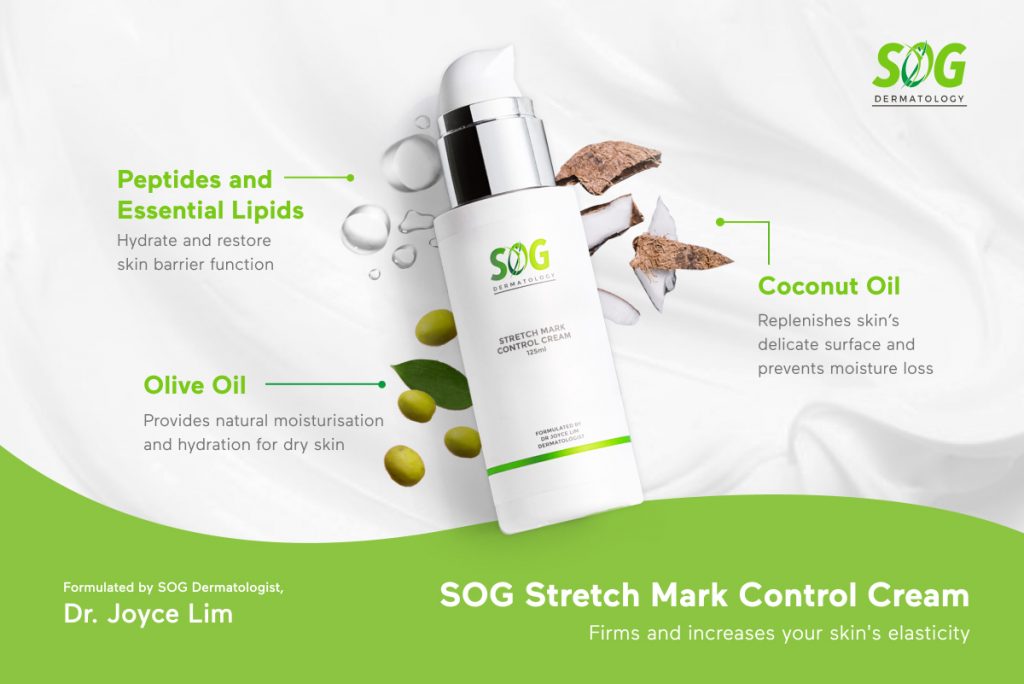 On the other hand, the SOG Skin Firming Oil is made up of sunflower oil, olive oil, grapeseed oil and jojoba seed wax. Sunflower oil contains essential fatty acids and vitamins to regenerate and improve the appearance of fine lines, while olive oil moisturises and hydrates your skin. With grapeseed oil, it provides antioxidant and anti-inflammatory properties from its omega fatty acids and vitamin E. Jojoba seed wax in our skin firming oil also prevents drying and flaking of your skin.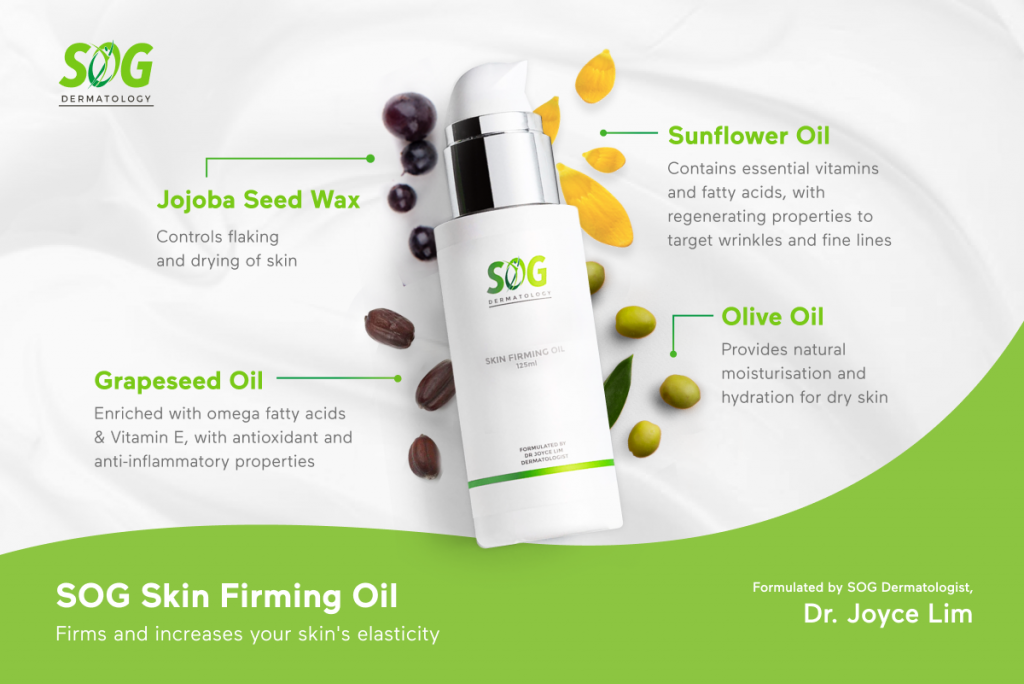 3. Hypoallergenic Formula Safe for Mummies and Babies
As our products are formulated from natural ingredients, they are also hypoallergenic and therefore safe for all mothers and their babies. This means that our products do not cause any allergic reactions, especially if you have sensitive skin.
4. Prevents and Improves Appearance of Stretch Marks
The SOG Stretch Mark Control Cream and SOG Skin Firming Oil also help prevent the formation of stretch marks and fade existing scars. The presence of ultra-hydrating and moisturising natural ingredients effectively penetrates your skin tissues to enhance skin repair function and protect your skin.
Although stretch marks cannot be completely removed, our SOG Dermatology products can significantly improve the appearance of these marks by making them less noticeable.
5. Increases Skin Moisture Levels and Elasticity
SOG Dermatology products contain natural active ingredients that possess remarkable hydrating and moisturising properties, which increases your skin's moisture levels.
Furthermore, our cream and oil are enriched with peptides and essential lipids, which helps restore your skin barrier function and firm your skin. During pregnancy, as your skin elasticity increases, you can effectively prevent the formation of new stretch marks as your baby bump grows.
6. Absorbs Easily Without Greasiness
The SOG Stretch Mark Control Cream and Skin Firming Oil also absorbs quickly and easily into your skin. It is non-sticky and does not create a greasy feeling after application, leaving your skin feeling smoother and having a more even texture.
Conclusion
While stretch marks can cause considerable frustration, especially aesthetic concerns, take heart in knowing that they can be treated. Whether it is preventing new scars or improving the appearance of existing marks, our SOG Dermatology Stretch Mark Control Cream and Skin Firming Oil can certainly help with your stretch marks.
Shop for our SOG Dermatology Collection at: https://shop.sog.com.sg.